NHS Patients, staff and visitors must continue to wear face coverings in healthcare settings
England's Chief Nurse has today reminded the public that everyone accessing or visiting healthcare settings must continue to wear a face covering and follow social distancing rules.
Covid restrictions will end in many settings in England from Monday.
However, Public Health England's infection prevention control guidelines and hospital visiting guidance are set to remain in place for all staff and visitors.
That means NHS visitor guidance will stay in place across all health services including hospitals, GP practices, dental practices, optometrists and pharmacies to ensure patients and staff are protected.
Staff, patients and visitors will also be expected to continue to follow social distancing rules when visiting any care setting as well as using face coverings, mask and other personal protection equipment.
HOW TO BOOK YOUR 1ST OR 2ND COVID VACCINE FROM 10TH JUNE 2021
From the 10th June, all vaccine bookings (1st or 2nd Dose) will be bookable via the National Booking System.
This means that patients can either call 119 or go to:
https://www.nhs.uk/conditions/coronavirus-covid-19/coronavirus-vaccination/book-coronavirus-vaccination/
To book their COVID-19 vaccination.
Appointments at the local vaccination hub (Priory Campus) are also now available through this booking channel.
The surgery will no longer be holding any further vaccination clinics at this time, we are also now unable to book appointments at the local vaccination hubs.
COVID-19 Vaccine Drop-In Clinics
We will display details of any local vaccine drop-in clinics on our website homepage and in the surgery waiting room.
You do not need an appointment to attend on these days, you simply need to arrive between the times specified with some ID showing your age. Please dress for the weather, as at busy times you may have to wait in a queue outside for your vaccine.
14.10.21- Please note that walk-ins are now only available for 1st Covid vaccine doses. All 2nd doses must now be booked before you attend a vaccination site, these can be booked via 119 or online.
Message to our Patients
Due to the coronavirus outbreak, ways of accessing the surgery have been different. We would like to remind our patients that:
Face-to-face appointments are available to all patients, but you may be asked to discuss your conditions over the phone first to assess what would be most appropriate for you.


We are mainly booking same day GP appointments at the moment. This is to reduce the risk of last minute cancellations, if any staff members cannot attend work at short notice due to; symptoms, isolation etc. However, we have now introduced a small number of appointments that are available to book 1 and 2 days in advance, please ask our receptionist about availability of these appointments.

You can also call NHS 111.
Nurse appointments are a mixture of both face to face and telephone appointments, the type you require depends on the reason for your visit to our nurses. Our reception team will be able to help you with your nurses appoinment before booking.
Please note: Our reception staff and administration team are experiencing a high volume of calls and as a result your wait time might be longer than normal.
We are dealing with an unprecedented amount of queries - please consider whether your call to the surgery is absolutely necessary.
Please be assured that all our staff are working extremely hard to maintain service levels.
Please follow this link to read the latest advice from the NHS regarding Coronavirus... www.nhs.uk/conditions/coronavirus-covid-19
We thank you for your patience.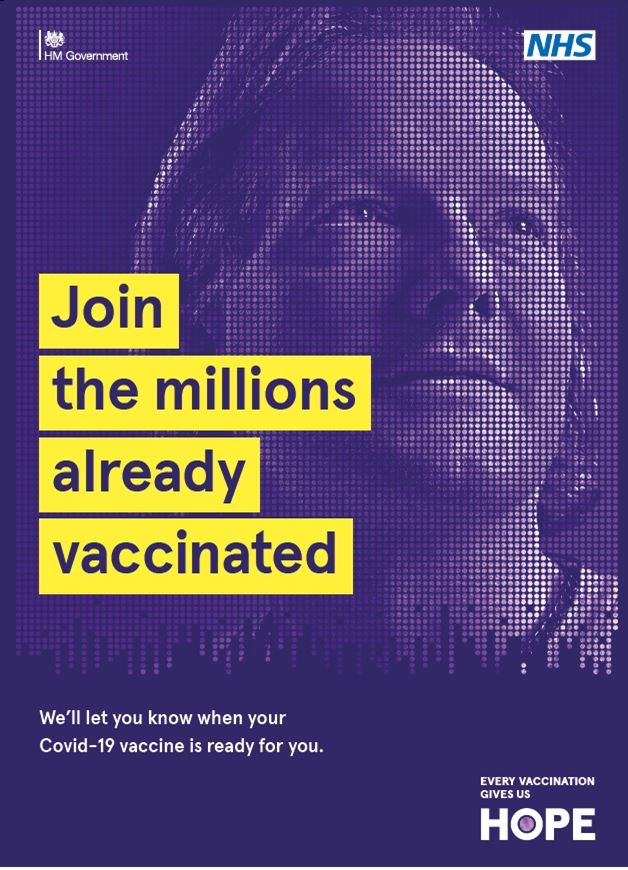 Your visit to the surgery during COVID-19
Whilst we encourage our patients to contact the surgery via telephone in the first instance, and any requests for appointments should always be made this way, we are here to provide medical care which means patients will need to come into the building.
For the safety of our patients and staff we have made some changes in our waiting room. We have the capacity to hold a number of patients (max 12) at any one time whilst still adhering to social distancing guidance. There are clear markers on the floor and chairs have been positioned at a safe distance from each other. In addition to this, a safety screen has been installed on our reception counter and we have upgraded our cleaning schedules by introducing regular sanitisation of the communal areas.
Face Masks - If you need to attend the surgery for any reason, you must wear a face covering whilst inside the building. Please remember to bring one with you.
We would like to reassure all our patients, that by introducing these measure we can offer you a safe environment to receive the medical care you need.
Please remember – only visit the surgery if your problem cannot be dealt with any other way.
Please help us to help you stay safe.
The Walderslade Surgery Team
BSL Service for Deaf Clients